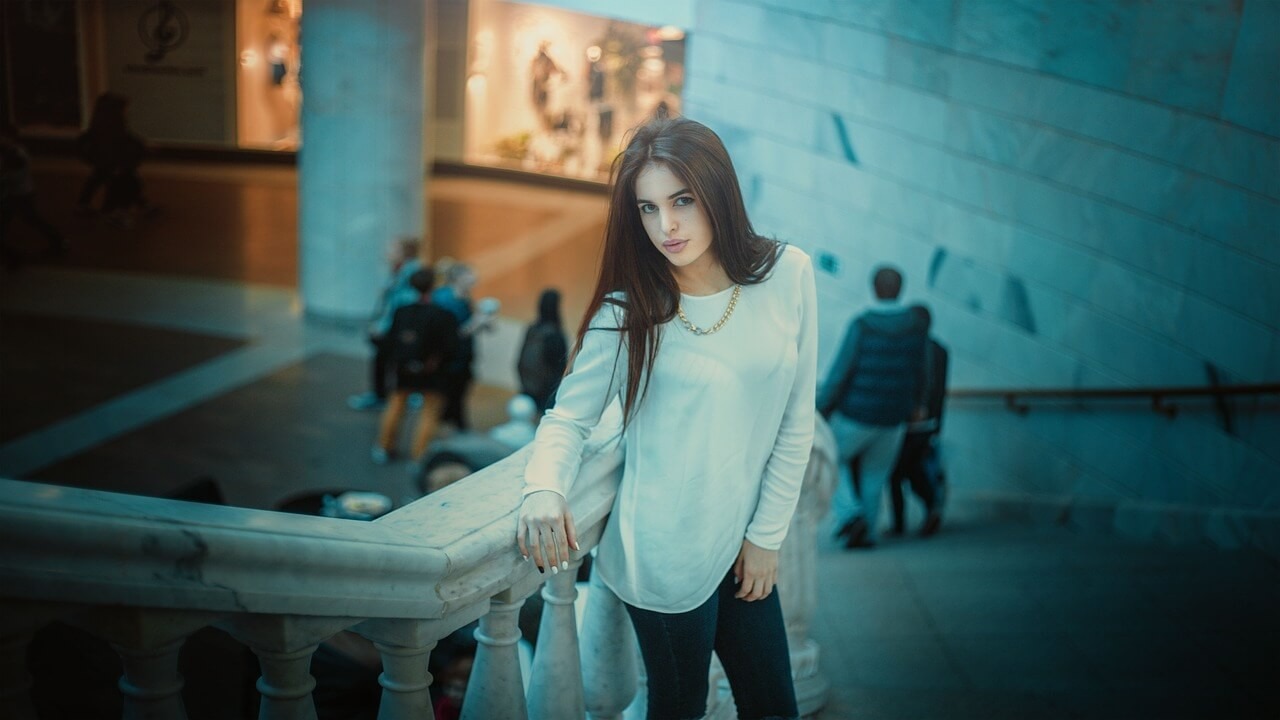 Carrie Bradshaw , the main character of the famous TV series and movies Sex and the City, played by the popular actress Sarah Jessica Parker, said:
"I like to have my money where I can see it; for example, hanging in my closet»
---
Those are the words of a woman passionate about fashion. Would you like to imitate her and buy cheap and quality online clothes ? Then come to Dakonda, where we have Guess brand shirts and blouses, suitable for any budget.
Guess has undoubtedly become a global brand that is easily recognized by all, thanks to its unmistakable logo with the closing question mark. Three colors are used in it and each one has a particular meaning. Red, which is the most striking, represents love and also sensuality and passion. The triad is completed with shades of black and white that have traditionally symbolized candor and elegance.
Sometimes the logo is shown in gold and silver, which adds even more glamor to the image. The Guess company, which opened in the 1980s in the United States, produces women's designer jeans, as well as other women's clothing, along with men's and children's lines. It also sells footwear and accessories, including watches, jewelry and perfumes , all of excellent quality.
Brief history and other interesting facts about Guess
---
The company was established in Los Angeles, but its founders Georges, Maurice, Armand and Paul Marciano, a family of four brothers, were Moroccan and before 1981 they lived in France. From this culture they acquired the style and orientation that they subsequently gave to their creations. The mixture achieved with the three ethnic ingredients has given rise to interesting clothing models that delight the public of all ages.
Guess advertising has always been very striking, especially that made for television, which can even have a slightly erotic cut. When it comes to billboards, it is usually in black and white, due to the symbology associated with these colors, as we already mentioned. Global jet set actors and models such as Paris Hilton and Drew Barrymore use its products and have participated in advertising campaigns for the company.
And it is that the prestige that the multinational company has generated in the fashion sector allows it to reach stars of great relevance to promote its campaigns or launch its new products. Currently, this honor has gone to Michele Morrone, an attractive Milanese actor, model and singer born in 1990. Until now, his most prominent role has been that of Massimo Torricelli in the Polish film 365 DNI.
Find your Guess shirts and blouses at Dakonda
---
At Dakonda we have a wide assortment of Guess pieces, at irresistible prices that you can see in our virtual catalogue. Between them:
GUESS W72HON . It is a black long-sleeved blouse with a round neckline, made of polyester and tulle, which exhibits an attractive polka dot print and a certain touch of subtle transparency. Whether to make a visit, go out with your friends or with your partner, you will always look very well presented with this garment.
GUESS W91H72 . A white shirt of regular cut and buttons covered with a lapel. With a shirt collar and long sleeves, this garment is distinguished by its interesting design with black lace. Its simple and natural elegance will allow you to go to the office or even to certain social events without going unnoticed.
GUESS W91P13 . Coming in black or white, this t-shirt is made from 95% viscose and 5% elastane, making it flexible and adaptable to your figure. Featuring a slim fit, round neckline and short sleeves, it features delicate lace details at the top and down the center line. It's great for running errands, going out for ice cream, or going to the movies.
---
At Dakonda we appreciate the good taste and high standards of our buyers and that is why we only offer them the highest quality items at the best prices, which is an excellent investment of your resources. Ours are original products, received directly from the parent companies of the best international brands. And, in addition, we provide a completely personalized customer service.
Related products
Flip flops
Guess
Z_FLAND2LEA19
Gender: Woman Composition: 100% Leather
Jackets
Guess
Z_W71N91-R2HO0
Gender: Woman Composition: 100% Cotton